Products that create
Moments of Presence and Connection
Have you found life gets a little full and the head busy with it? We know this from our own lives which is why we set out to create gifts that remind us to slow down.
We believe that the stronger connection we have to our hearts, the fuller impact we will have on one another and our planet.
With our goal-orientated ways, creating space for precious moments and the people that matter most is surprisingly easy to brush past, regardless of our best intentions.
That's why we exclusively create products for you with one aim: Whether you are heading to your yoga practice, journaling in the park, cuddled-up with your partner when the sun leaves for the dark, or waking and planning your new day – we want to help you create moments of presence and connection in your life.
Our Commitment to you: Beautiful items. Purposefully designed. Sustainable and easy on the environment. Beneficial to everyone involved in each step of the journey – from vision to creation, delivery to open.
All our products are luxury items with unique and artistic packaging. They are designed to give as a gift, be it for another or yourself. Included with each one is a poem and a Rumi card to read, enjoy and pass on – after all, what is love if not shared?
Essential Oil Diffusers
Diffuse Essential Oils, naturally purify air, add atmospheric lighting, protect skin and enjoy the therapeutic benefits of aromatherapy. Add style, zen, and ambiance to any room with our new ceramic porcelain and natural wood 5-in-1 essential oil diffuser lamps.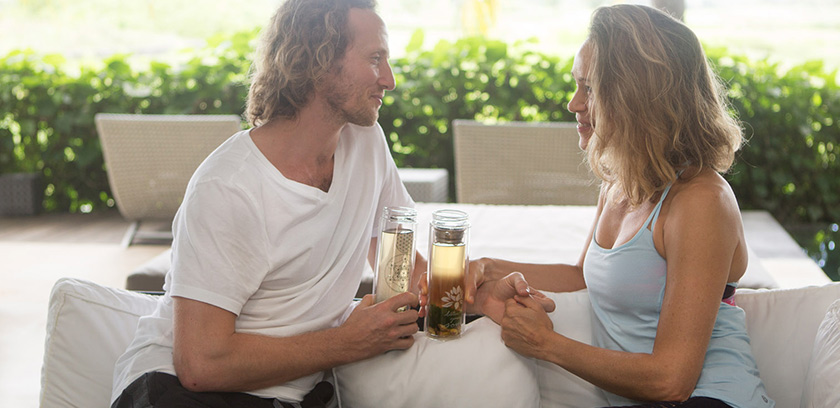 Tea Tumblers
Support your healthy lifestyle and enjoy tea on the go or at home, with our stunning, handcrafted glass and natural bamboo tea tumblers. Great for the environment and your health.
Choose either The Sacred, The Lotus, or The Love. A perfect companion for the Soulful lifestyle.
Loose Leaf Tea
USDA Certified Organic, sustainably sourced and hand-harvested loose leaf tea custom made and curated for our Sacred Lotus Love community. A perfect companion for your Tea Tumbler — enjoy the swirl of light and pattern as your tea leaves settle, steam and steep to perfection.
Journals
Your words are the path. Journaling is one of the most rewarding and soulful experiences we can grant ourselves. We've created three unique journals for the creative writer, musician, diarist and anyone that enjoys journaling, artwork, or needs a sacred space for private thoughts and fantastic ideas. Choose your Writing Soulmate — The Sacred, The Lotus, The Love.

Incense
In the silence of the heart, nature speaks.
Experience exquisite incense from the spiritual heart of Bali–handcrafted by a 6th generation family tradition of prayer and practice. Using only the most beautiful organic and locally grown flowers, spices and herbs, every incense stick has been lovingly rolled and blessed in the hands of Balinese master artisans. Choose either The Sacred or The Lotus.
Accessory Packs
Accessory Packs for your Sacred Lotus Love Tea Tumblers. Each accessory pack comes with an extra lid, seal, and engraved strainer + infuser basket designed for your individual Tea Tumbler.
Love + Gratitude
What customers are saying about our products
"I received my tea order a couple of days ago and tried it right away! The moment you open the package you can smell the goodness of mint and chocolate. It smells delicious and tastes even better. I will definitely be buying this flavor again, and can't wait to try some of the other flavors Sacred Lotus Love carries."
~ Karin, Canada
"Excellent customer care with Sacred Lotus Love! The quality is amazing and the way they package every product that they sell is a gift giving experience, even to yourself! I have ordered four lined journals, incense, and the Lotus water bottle and will be coming back for more!"
~ Joyce Witte, USA
"Just beautiful! I love this tumbler so much. The design and feel. The packaging and the poems! You can tell a lot of thought has gone into creating a great experience. My new companion for work and play. Thank you Sacred Lotus Love x"
~ Pamela D. Brisbane Australia
"I bought the Sacred for my boyfriend and the Lotus for myself, and I can't decide which one I like more. Both are so beautifully designed, unique and useful – I literally have used mine every day since I bought it."
~ Nicole S. Carlsbad, California
"These bottles are great. They have changed the way I drink and enjoy tea. I love the patterns and designs. There is something calming about seeing the light reflect through the tea. Easy to clean and good to carry around. I take mine to work. Love this!"
~ David M. Oxford, England
"So elegant and such a gentle reminder to slow down and "listen to your soul". Love that the 2-way infuser gives you the option to remove or keep the leaves in the tumbler to enjoy seeing them. Also would make a lovely gift for special people in my life."
~ Linda R. Ontario, Canada
"I wish I could give this incense 50 stars! I've been looking for it ever since I lived in Ubud, Bali in 2012…when I lived across the street from the family that MAKES THIS INCENSE! It is the most intoxicating aroma that is uplifting and calming at the same time. I know first hand that the ingredients are pure because I walked through the gardens myself and I witnessed the sacred way that each stick is hand rolled. I'm so grateful to Sacred Lotus Love for keeping the integrity of this product."
~ Deborah Kern, Austin, Tx
Let's Stay Connected
Get our free PDF guide to Creating moments of Presence and Connection